After recently upgrading Windows 10 to the Creators Update (May 2017), I ran into an error message that was new to me. When starting Studio 2017 the following two 'StudioUpdateClient' messages popped up: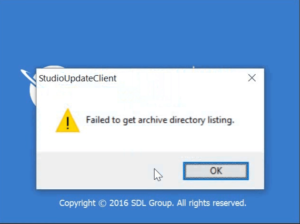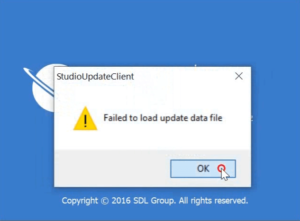 'Failed to get archive directory listing'

and
'Failed to load update data file'

The following video shows those messages at start-up
The same happened when trying to manually check for updates (Help > Check for updates [in the Action ribbon group]) and when launching Multiterm.
There was clearly something wrong with Studio's update module.
I tried repairing Studio's installation (SDL KB article number: 000001414), as well as resetting Studio (SDL KB article number: 000001417), but to no avail. I then decided to contact SDL and with their help we have indeed isolated the problem to a corrupt Update module.
There is plenty that can potentially go wrong–albeit seldom does–when upgrading the operating system and/or a program, and initially I suspected Windows upgrade might have broken the Update module. However, other users who have also upgraded Windows didn't experience this or any other issue, and therefore I concluded this was unrelated. Something, somewhere, went wrong but there is nothing much to learn from it.
That said, the problem of not being able to update Studio still remained and I wanted to get it fixed.
How to repair Studio's Update module and resolve the 'StudioUpdateClient' error messages
It is very easy to repair the Update module:
Close Studio and/or Multiterm;
Navigate to 'C:\ProgramData\SDL\SDL Trados Studio\Studio5\' and delete or rename the 'Updates' folder to 'Updates_old'
Please note that the above path is for Studio 2017 and the 'Studio5' part of the path should be replaced for earlier/future versions of Studio according to the relevant Studio version number, e.g. 'Studio4', 'Studio6'… and so on)
Repair Studio's installation by following the instructions in SDL KB article number 000001414 [link].
The 'The Update application has been updated and must restart in order to continue' loop
A corrupt update module could also result in the following behavior: When starting Studio or MultiTerm–or when manually checking for updates–the 'The Update application has been updated and must restart in order to continue' message appears, but when confirming it nothing seems to happen and you don't get either the update is available notification or the 'This application is up-to-date" message, and the same message pops up again the next time Studio or MultiTerm are launched.
That's it. A simple fix for a rather annoying problem.